TOPICS
026
2016/ project report 5
Thoughts after visiting EKWC, the European Ceramic Work Centre in the Netherlands. Future of the platform formation project
The Saga Ceramics Research Laboratory exchanges research information with the European Ceramic Work Centre (EKWC) in Brabant Province, the Netherlands and on April 19, 2016 they visited EKWC. EKWC operates an artist in residence program working with creators often from outside the world of ceramics and helps to invigorate the production areas. What sort of platform project is required for the Arita of the future?
December 29, 2016
Written By Yuriko Hamano
The Artist in Residence Style of EKWC
Based on an Agreement for the Exchange of Creative Industries concluded between Saga Prefecture and the Embassy of the Kingdom of Netherlands in November 2013, the Saga Ceramics Research Laboratory exchanged a memorandum of understanding in October 2014 with the European Ceramic Work Centre, EKWC. Researchers were sent to EKWC and on April 19 2016 they conducted a full-scale inspection tour with personnel from the Prefectural Office.
EKWC is an international work-center exploring the technical and artistic feasibility of ceramics through an artists in residence program accommodating creative activities and provides the opportunity for creators to stay and work in the center.
EKWC is located in a small town in Brabant Province in the Netherlands and its premises stand in a vast renovated estate, formerly the site of a leather factory. The specialized facilities are available for use 24 hours a day, and the individual studios for the resident artists, a guesthouse, and offices are all on the estate.
To be accepted to join the artist in residence project, the many hundreds who apply each year must pass a screening process out of which about 45 people are selected to stay three months to learn new skills and create their work. Participants pay their own travel expenses, living expenses, and the cost of using the facilities.
In exchange, EKWC offers an environment ideally suited for monozukuri. The specialized facilities include kilns and processing machines, 24/7 work areas, an independent studio for each participant, and technical support from the specialized staff.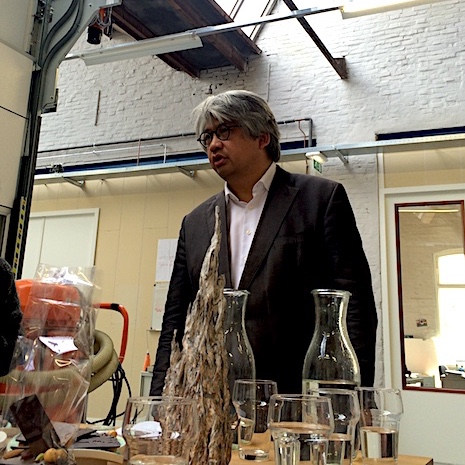 Exploring the feasibility of the technical and artistic aspects of ceramics to create a new sense of value
The tour group from Saga was guided round the facility by EKWC Director, Mr. Ranti Tjan, who also answered the group's questions. When asked why they started this system, he said, "Artists are in the minority and we felt there was a need to make a place where artists can present their work and speak up".
The EKWC system is well thought out, offering artists a place to retreat and explore their stimulating ideas and own monozukuri, which often leads to invaluable research into the feasibility of the technical and artistic aspects of ceramics.
It is interesting that the age of participants is broad, varying from 25 to 65 years old and that more than 75% are creators with no experience of ceramics. It would seem EKWC selects such a broad spectrum of people because they are looking for a new sense of value free from the fixed ideas of the ceramic industry.
A committee of five specialized board members selects participants and Mr. Tjan succinctly described the selection criteria in a few words, "Challenging ideas are favored more than practical ideas".
As we walked around the facilities, our group saw creative monozukuri in action before our eyes. There were people, for instance, who dissembled a car down to its basic parts and then recreated a ceramic car using the 3D data. Another artist created their work by listening to the spontaneous cracking sound caused by temperature differences when the kiln door was opened.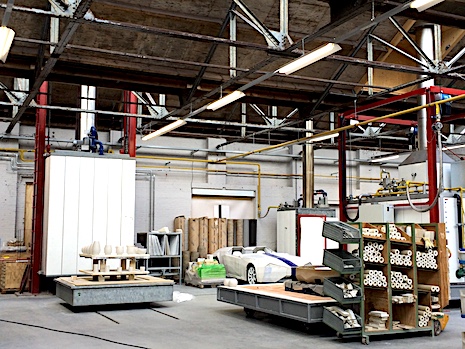 Making a system to gather creators in to Arita
After the inspection tour, Mr. Kiyoshi Soejima, chief of the design section in the traditional ceramics division of the Saga Ceramics Research Laboratory, commented "Each participant has plenty of space and there is a specialized technical support system. As the space was renovated from an old factory site that alone raises motivation. It was stimulating to see their environment helping participants make creative works".
"Solitary World", "Shared World", "Dine Together"
Mr. Tjan considers the above three phrases important for the EKWC artists in residence and they were embodied in the facilities and environment.
An independent studio for each participant offers a closed environment for participants to concentrate on solo monozukuri, in contrast there is an open environment where they can work together and look at each other's work. In the guesthouse artists take turns cooking and dine together.
One of the Arita Porcelain 400th Anniversary Projects is the 2016/ project aiming to create a monozukuri platform and we have been developing products with 16 groups of outside designers. Through this experience, we also realized the importance of dining together.
In June 2016, a designer and an artist from the Netherlands supported by the Creative Industries Fund (designer development fund) and the Mondoriaan Fonds (artist development fund) in the Netherlands stayed in Arita for three months until the end of August. They worked with technical guidance from potteries and the Saga Ceramics Research Laboratory. The second group of two artists came and stayed from September to November. We are very pleased with the trial and the successful hosting of four creators in residence this year. They created their work inspired by the monozukuri in Arita and brought fresh ideas in to the production area.
What sort of creators do we need to select, how do we host them, what sort of activities are required, and what sort of facilities do we need for them in order to build a creative platform?
Based on our experience of working with world creators in the 2016/ project, we will continue hosting outside designers and artists, collaboratively solving problems and evolving improvements while accumulating know-how. Through such efforts, we will eventually find Arita's own form of monozukuri platform. The platform formation project has just taken another step forward.