TOPICS
025
Sake Cup Project – Collaboration with sake breweries – report 2
Saga's treasures for everyone: ARITA Ji No Sakazuki (local cups for local sake) to savor sake of special merit
Potteries in Arita in collaboration with sake makers in the Saga region have been busy producing a series of sake cups, Ji No Sakazuki, for local people to better enjoy their local sake. Since the launch in March 2016, the team made up of sake brewers and cup makers has kept expanding its sales promotion activities out beyond Saga and now also include Fukuoka and Tokyo. This article reports the progress of the collaboration between two treasures: Arita porcelain and Saga sake.
December 27, 2016
Written By Shinsuke Miyazaki
Twelve types of sake cups designed to match the brand and flavor of each brewery
With the concept of making Saga's sake even tastier, ten potteries and artists and eight sake brewers all in the Arita area, and the Saga Prefecture Brewers' Association teamed up and developed a range of sake cups titled ARITA Ji No Sakazuki. These sake cups fully represent the "character" of each brewer's sake; the names given to each of the series reminds us of happy times drinking sake; the designs are in harmony with each brewer's brand name; and some of the hand-painted designs are very bright and quirky. Some combinations of sake and cups have a subtle charm, exquisitely capturing the character of the sake: pink cracking on the rounded white porcelain expressing cherry blossoms and matching the sweetish sake; or a sparkling of Tenmoku iron glaze evoking the celestial night sky, and ideally suited to a crisp dry sake. Some designs draw inspiration from the local Takezaki swimming crab or squid from the coastal Yobuko area. There is even a tasting game of rolling dice with friends to select a particular cup. The fun and interesting Cups & Sake & People back stories of the cup potters, sake makers, and sake drinkers are an entertaining side dish when enjoying a particular sake, and guide people to choosing a suitable sake and cups for the occasion.
Since its release in March 2016, this ARITA Ji No Sakazuki series has been made available through breweries, liquor stores, online shops, etc., and the promotion is being rolled out across the Fukuoka and Tokyo Metropolitan areas.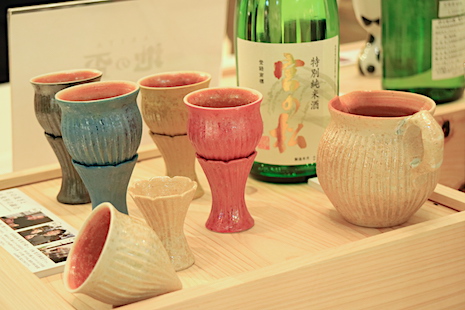 Tasting Saga sake with ARITA Ji No Sakazuki: Popular Sales Fairs
From October 19 to 26, 2016, Saranoue no Kyushu (Kyushu on a Plate), a trade fair for food and table and cook ware in the Kyushu region, was held in the IMS (Inter Media Station) Building in Tenjin, Fukuoka City. This was the first showing and sale of ARITA Ji No Sakazuki in the Fukuoka district, and the project members including liquor stores, potteries, and artists met to watch at firsthand the public's response in the busy display venue linked to the underground shopping mall. Naturally, most people who stopped walking to look at the display of ARITA Ji No Sakazuki were of course sake fans. A couple in their thirties picked up a sake bottle and two large sake cups with a beautiful pearl finish belonging to the Lin series, and played with them in their hands before immediately purchasing them, and commenting: "How wonderful, we can drink sake from a sake cup as beautiful as this. The color is lovely and the size and shape are just perfect for us."
About the same time as the trade fair in Fukuoka, tasting promotion events matching sake cups with the local Saga sake were also held; such sales fairs gave visitors the opportunity to sample Saga sake and enjoy the feel of the ARITA Ji No Sakazuki sake cups. The Tokyo events were held at Isetan Department Store Shinjuku and Yasukuni Hall, and at a joint fair for Kyushu region products in Otemachi. In addition, in collaboration with several Tokyo restaurants, select dinner parties were hosted for diners to appreciate Saga sake and Ji No Sakazuki, along with complementary cuisine; such popular sales promotions have contributed to the growing numbers of ARITA Ji No Sakazuki and Saga sake fans.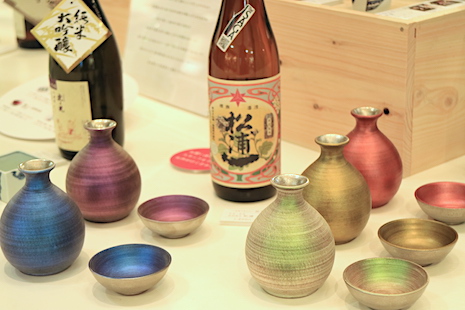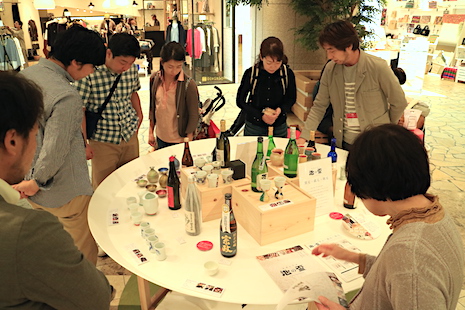 Future sales promotion: How best to appeal to sake fans
The project director Tsubasa Takasu had complete control from planning through to the sales of ARITA Ji No Sakazuki, and commented: "Divine Saga sake and exquisite Arita porcelain belong together and it is a waste if they are apart. However, even so, if we had planned to make tableware and had taken a simple approach, it would have ended with only a one-way communication from the producer side. The original concept of this project was to develop a sake cup brand with several kinds of common design, but the finished products were actually a richly varied 12 types of cups each with a different back story. They are cups created by seeking a certain feel about taste and pleasure; something quite different from the popular Karatsu ware typical of sake cups or glasses." From the next year, in many of the other Arita Porcelain 400th Anniversary Projects, the producer will leave and local people will be responsible for promoting the appeal and sales development; however, in this project, the future activity costs will be raised from the product sales, and the system to continue the business is already in place. Mr. Takasu too, considers it is important how the <new value> born through this project will be promoted to <sake fans>.
The three-year Arita Porcelain 400th Anniversary Project is finally coming to its close. We very much hope that continuous sales promotion activities will be successful for ARITA Ji No Sakazuki sake cups filled as they are with their love of home and region. Born of a meeting of the passions of local potteries, breweries, and people, let us all raise our cups and I give you a toast: Long may the local treasures of ARITA and Saga sake prosper and inspire each other!