TOPICS
022
Arita Porcelain 400th Anniversary Event in the Kyushu Ceramic Museum report 1
USEUM ARITA: Appreciating the greatest porcelain of our time and savoring the cuisine of Saga
The Saga region is proud home to living national treasures and the three renowned Emon ceramic dynasties – Imaemon, Kakiemon, and Tarouemon. In harmony with this outstanding exhibition, a limited-time event offering visitors the opportunity to fully enjoy both the works of ceramic masters and delicious Saga cuisine is proving extremely popular. This article explores the delights and enjoyment coming from handling and dining off fine ceramic ware.
October 14, 2016
Written By Shinsuke Miyazaki
The greatest porcelain fired by Saga's master ceramists
Japanese yakimono or ceramic ware has always been developed taking into account both the visual and tactile nature of an item; not only by simply displaying and appreciating it, but also by enjoying its touch. Particularly, with its long history and tradition stretching over four centuries, the Saga region has led the field with its master ceramists and renowned kilns, producing some of the finest pieces of each period. Starting on August 11, 2016 at the Kyushu Ceramic Museum, a special exhibition Living National Treasures and Three Emons is now showcasing the works of Saga's master ceramists, and in addition, USEUM ARITA opened its doors giving visitors a once in a lifetime opportunity to take such pieces in hand and savor them along with delicious local cuisine.
The Saga ceramists featured in the exhibition are Inoue Manji, Nakajima Hiroshi, and three ceramists, living descendants of historically significant Emon kilns, namely, Imaizumi Imaemon, Sakaida Kakiemon, and Nakazato Tarouemon. Inoue Manji from Arita is acknowledged as a living national treasure (holder of an important intangible cultural property), and master of hakuji (white porcelain) with his outstanding wheel techniques. Nakajima Hiroshi from Takeo is pursuing the perfection of seiji (celadon porcelain) known from olden times as "blue sky after rain." Imaizumi Imaemon is a living national treasure and his family has handed down skills from father to son for generations as the domain's official akae-ya (multi-colored overglaze specialist) producing Nabeshima porcelain that in the past graced many a feudal lord's dining table. Sakaida Kakiemon's ancestor fired Japan's first akae in 1647. Nakazato Tarouemon's family, once the official kiln of the Karatsu domain, preserves the techniques of old Karatsu ware. It is not an exaggeration to say that these five ceramists and their ancestors are among the foremost ceramists of not only Saga but also Japan.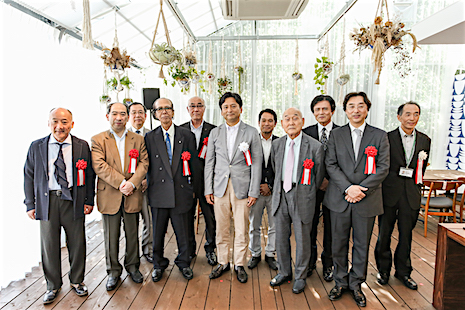 Appreciating the finest cuisine served on the very finest porcelain
Upon entering the exhibition room in the Kyushu Ceramic Museum, the visitor is lost in an array of 104 works from the Saga region, spanning from the Meiji period to the present day. Huge flower vases and pots, large plates, water pitchers for the tea ceremony, and bowls and cups; all are works of mouthwatering beauty. Gazing on these numerous pieces safely but tantalizingly displayed behind glass, only makes the viewer feel how wonderful it would be to take these masterpieces in hand and feel their curves and textures. After appreciating these works with the eyes, the experience-based USEUM ARITA, located on the approach deck, is a welcome surprise. This former greenhouse now an ephemeral ceramic palace underlines the fact that the Saga region has a flourishing agriculture. Inside, the bright, light space, areas for eating and drinking and display are tastefully arranged to showcase many porcelain pieces sampled from the 17 projects celebrating the 400th anniversary of Arita porcelain. The displays under the theme USE include lighting, flower arrangements, furnishing, playing, and gifts. The strong light shining through the glass roof and the white curtains only add a brilliant luster to the wares.
Feasting on the exquisite cuisine and ceramics of Saga.
At any time of day, you can enjoy delicious food served in the USEUM: Brunch of Japanese-style food, Lunch of Japanese or Western-style food, and Café Time for coffee or tea with Arita porcelain, or matcha tea or cappuccino with Karatsu ware. During the Brunch and Lunch time, dishes cooked by Japanese and Western cuisine chefs using local foodstuffs are served on tableware sets created by the Inoue Manji Kiln, Yumino Kiln (Nakajima Hiroshi), Imaemon, Kakiemon, and Tarouemon Kilns. The USEUM gives the visitor the unique opportunity to feast all their senses, not just their eyes and intellect; through eating, they experience the exhibit by touching and hearing the sound of the ceramics and smelling and tasting their food. On the opening day, 130 devotees gathered from all over Japan, testifying to the popularity of this event, and in the future, Michelin star chefs will be invited to hold special dinner events.
The special exhibition Living National Treasures and Three Emons is held until September 25, and USEUM ARITA is open until November 27.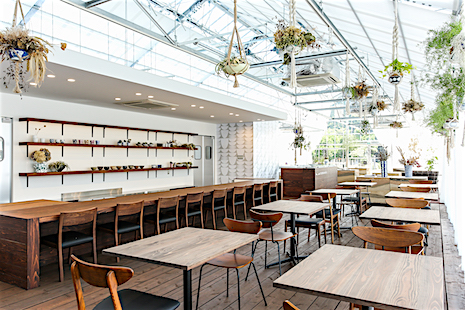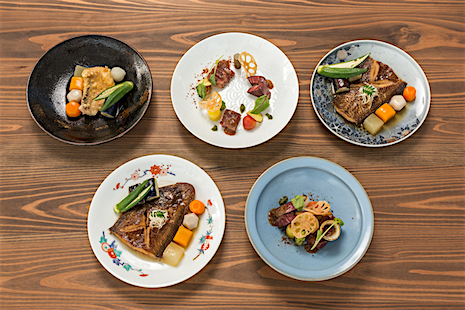 On August 10, 2016, at the opening ceremony, in his speech Mr. Yoshinori Yamaguchi, the prefectural governor, stated: "It is such a joy to be in Arita with its 400-year history together with these wonderful ceramic artists who are the pride of Saga. I would like to see us all continue handing down the splendor of ceramic ware to our children and grandchildren."
We can all feel moved by "using" such beautiful items at dinner, when drinking tea, or arranging flowers, for example; such moments of reflection return us to a time of simple happiness and contentment, always the same in the past, present and future. It is hoped that Arita and Saga will long continue to produce magnificent ceramics allowing their users to feel rich and blessed with such beauty.
Arita Porcelain 400th Anniversary Event in the Kyushu Ceramic Museum Website