TOPICS
021
Professional Use Project – NEW ARITA 400 "educe" Project – report 4
The World Cuisine Academic Meeting in ARITA: A gathering of top-class chefs from home and abroad
The World Cuisine Academic Meeting (WCAM) held for the first time in Arita Town, as a part of the 400th anniversary celebrations of Arita porcelain, provided an exciting forum for the world's top-class chefs to present their own culinary theories, ideas and techniques, and discuss the direction of the cuisine of the future. The following report explores the creative possibilities of tableware, cuisine, and the region, arising from the exchange of ideas between chefs and Arita porcelain artisans.
August 05, 2016
Written By Shinsuke Miyazaki
A successful model of local rejuvenation inspired by the chefs' workshop movement
May 3, 2016 was a day of unseasonal heavy rain and strong winds, but the World Ceramics Exposition-Memorial Hall in Arita Town was undaunted by such harsh weather, and from the morning, a good turnout of chefs and apprentices from Japan and abroad, along with Arita porcelain artisans, and many other visitors all packed into the venue in anticipation of a great WCAM in ARITA.
WCAM was the child of the "new Basque cooking movement" of the late 1970s, starting in San Sebastian, a small town of some 180,000, located in northeast Spain. It was a movement to create a new food culture by blending local foodstuffs and French cuisine. Chefs gathered to hold study workshops and exchange skills and knowledge, raising the culinary standards so high that San Sebastian in later years had the highest number of Michelin star restaurants per head of population, and gave rise to a flourishing food tourist industry. Based on a strategy of championing food as a tourist resource, San Sebastian was internationally acclaimed as an outstanding model of regional revitalization. WCAM was inspired by the spirit of the study workshops in San Sebastian, and spread later to Madrid and out across the world. In Japan, WCAM events started in 2009 in Hakodate, and this year for the first time were held outside Hakodate. The ceramic town of Arita has long been known worldwide as a place for chefs to visit and find their "perfect tableware" and this year, WCAM was held to help develop the region's cuisine and tourism.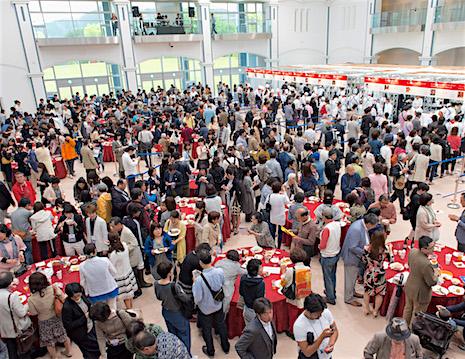 A marriage of tableware and cuisine, and dishes of local Saga produce
Under the WCAM in ARITA theme of "A Marriage of Utsuwa (Tableware) and Cuisine," visitors were treated to presentations by chefs, talk sessions with Arita porcelain artisans, and other events. Over the two days, 15 chefs including Andoni Luis Aduriz, one of the most preeminent chefs in the world, took the platform and presented their philosophy on the cooking arts and the relationship between utsuwa and cuisine. Three Japanese chefs with strong roots in Saga Prefecture appeared on the stage: Hiroki Yoshitake of Imari City, Saga, the owner chef of Sola, a Michelin one star restaurant in Paris; Daisuke Kajihara, from souRce, an Italian restaurant in Takeo City; and Akihiro Kogishi from Tara Town, chef of Au gout du jour merveille HAKATA. In the talk session, representing the ARITA PLUS joint team of porcelain producers and trading companies, responsible for planning, design, development, and sales of professional use tableware, Yoshiyasu Harada (Kichiemon Porcelain) and Shinji Terauchi (Riso Porcelain) explained the production process and showed examples of their original utsuwa made in collaboration with chefs.
In addition, the ARITA Bar staffed by 19 top-class chefs in Japan provided a venue to showcase their skills and offered many fine and special meals unique to the event. Visitors enjoyed over 25 original Japanese, Western, and Chinese dishes using local Saga foodstuffs, such as jellied broth with seasonal vegetables, bouillabaisse, or cup-steamed egg custard hotchpotch with foie gras.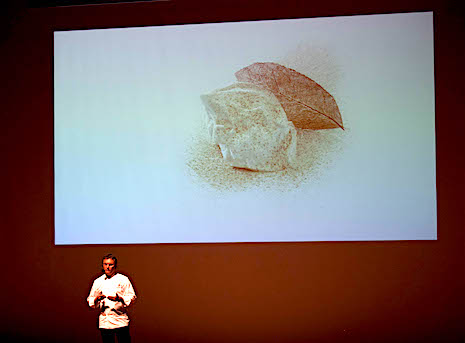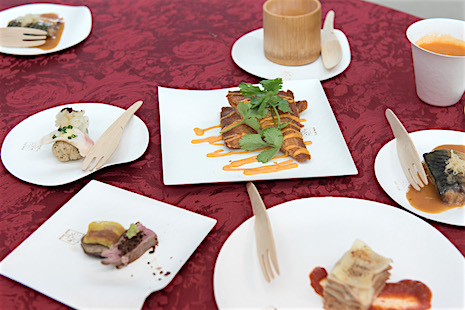 Creating possibilities by connecting with chefs
Yoshihisa Akiyama, the general director of WCAM in ARITA and the head chef of Japanese restaurant Mutsukari in Ginza, highly appreciates Arita: "The reason why Arita porcelain has been able to hand down age-old skills and techniques can only be because it has flexibly responded to the times and market needs, and is forever changing itself." In 2011, Mr. Akiyama had an idea for a five-tier "spherical" Arita porcelain serving set, and in collaboration with Arita porcelain artisans, this stunning design proved to be a perfect amalgamation of traditional handwork and the latest digital modeling and cutting of plaster molds. He offered the insight: "At this turning point of 400 years, an important role easily assigned to chefs is to involve us more in the design process and thus open the door wide to even more exciting possibilities of Arita porcelain."
The Professional Use Project: NEW ARITA 400 "educe" Project is now its third year, and has helped to establish new and innovative Arita porcelain business models outside the past conventional systems. From among participating trading companies and porcelain producers, we often hear the following view: "These new ideas will not yield instant increases in sales, but through the nurturing of actual "connections" with chefs, a system and readiness to respond to ideas and orders from professional chefs is now taking shape in this production center, and overall our awareness has also changed." The WCAM in ARITA was an event which firmly positioned the 400th anniversary of the foundation as an important turning point and the first year of the "shift of awareness" (EPISODE 2) among the porcelain artisans of the Arita region; the meeting has certainly signposted the way to a brighter future.