TOPICS
020
Professional Use Project – NEW ARITA 400 "educe" Project – report 3
ARITA × NOBU: Epoch-making Arita porcelain tableware
The ARITA × NOBU tableware brand is an exciting collaboration between Nobu, the world-renowned Japanese cuisine chef (Nobuyuki Matsuhisa) and 7 Arita potteries. Does this custom-made chef-driven project herald the dawn of a new era for the artisans, potteries, and porcelain of Arita?
July 29, 2016
Written By Shinsuke Miyazaki
Japanese style changing the world's cuisine
In Japanese there are many words for style, such as yo, fuu or konomi. These words are linked to the diverse styles developed over the centuries in different regions in response to climate and natural features by talented families and individuals. In the West, such styles have set trends and established brands; for example, the passion for Japanese art, fashion and aesthetics, known as Japonism, became a universal movement, and Japanese-style food has now become a world trend, with its chefs also acknowledged as brands. The internationally acclaimed Nobu, the owner of establishments in 17 countries and 5 continents, is the foremost chef spreading Japanese-style cuisine with his high-end NOBU chain of restaurants.
The elegant NOBU London is Mr. Matsuhisa's flagship restaurant in Europe, and on February 2, 2016, the restaurant hosted the unveiling of the ARITA × NOBU tableware collection, a collaboration of Mr. Matsuhisa and Arita potteries. As the taste of Japanese-style cuisine is enhanced by its carefully chosen plates and dishes, there are many types of tableware, ranging from a simple slab to an intricate interlocking stacked set; however, the development of this collection in a unique NOBU style was particularly challenging for Arita potteries.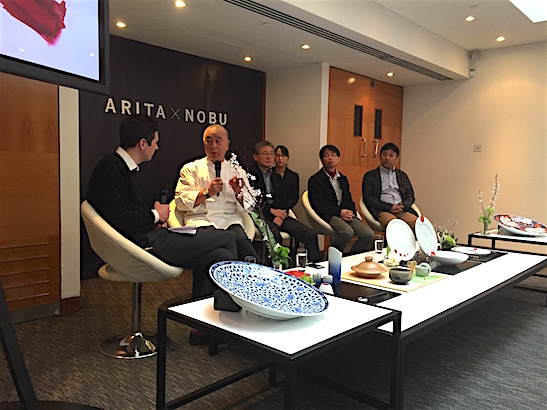 Making and using tableware: Breaking the mold
PRODUCT ARITA, a collaboration of 5 potteries with an elite team focusing on professional use tableware, started in 2009, and gave birth to the ARITA PLUS project, which in turn inspired the ARITA × NOBU joint project involving 7 potteries, Kichiemon Seitousho, Suemura Yougyou, Tokko-gama, Haraju Seitousho, Fukuju-Touen, Yamahei-gama, and RISO porcelain, and 2 trading companies, the Kikoujin Corporation and Showkado. PRODUCT ARITA first showed its products at a Hong Kong international trade fair, and the team has kept developing new products and exhibiting in international trade fairs. The team members are keenly aware of the great success of Japanese chefs overseas, the latest restaurant and tableware trends, and had first-hand experience of the borderless nature of the new world cuisine and tableware. One of the ARITA × NOBU members, Hiroyuki Tokunaga of the Tokko-gama kiln says: "As for tableware used in overseas restaurants, we tend to think they have pretty standardized sizes and designs, but actual trends show a wide variety of shapes and materials, for example, smaller bowls or earthen ware; there is no stereotypical tableware. Through our activities at trade fairs, we've got to know many chefs, and they don't really know where to order custom-made tableware. Once we've deepened our relationship with a chef, they often take the time to visit our studios in Arita. We explain our history, skills and techniques, and they often order products on the spot." (All the following quotations are from Mr. Tokunaga)
Nobu's project theme was to express wa (harmony) with a few specific requests: use of Arita's traditional color red; shapes with no sharp corners; and finishes preventing any visible marks (fingerprints easily stand out on shiny surfaces). Being very meticulous, he gave instructions in millimeters for kodai (the underside or foot of tableware) when checking samples.
"We have learned an enormous amount from Nobu... a sense of speed like a world class runner, uncompromising standards of monozukuri (art of manufacturing), and observing the faces of users. The collaboration encouraged the artisans and potteries to be very enthusiastic and constructive in meeting the challenges. This project had a hidden theme, which was to stretch and develop our work force. It's always fun and interesting to create good objects from a hard brief. It is my dream for our young artisans to have the opportunity to have such challenging and fascinating experiences."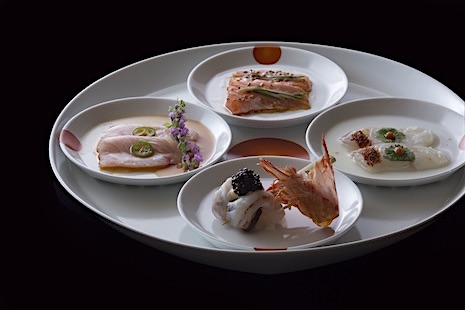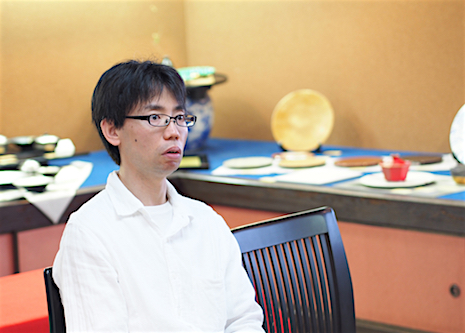 Openly passing down skills and know-how
The ARITA PLUS mission is to "increase the work volume of the whole of Arita porcelain by meeting the needs of chefs throughout the world." In the ARITA × NOBU project as well, the newly developed method of glaze mixing was openly shared within the production center. The project was not just to benefit individual potteries; its real meaning was to improve the skills and techniques of all Arita porcelain. "The project started from small efforts in ARITA PLUS, and the potters and traders responsible for the coming decades of Arita porcelain, many of whom are in their 40s, have had their perceptions changed and opened. They are now aware of the basics of developing new business such as the enjoyment, satisfaction, and difficulty of taking part in monozukuri from the planning stage; they are dealing with overseas distribution and sales channels; ensuring product management can respond quickly to orders from customers, and so on. Any artisan who has broadened their view will naturally make progress, and these new skills will inevitably spread throughout the production center. I think ARITA × NOBU will be a turning point for Arita porcelain."
Orders to ARITA × NOBU from overseas have already begun, increasing the visibility of Arita porcelain on the world stage. Tableware and cuisine evolve in harmony with their time and culture; simply based on this, it is hoped that the Arita porcelain brand ARITA × NOBU will later flower into a world trend of cuisine, and herald a new era of Arita porcelain.
ARITA × NOBU Project Website http://matsuhisa-japan.com/aritanobu/