TOPICS
018
ARITA 400project report 3
Collaboration with leading creators fires up visitors. Fruits of ARITA's 3rd Maison & Objet Paris
Maison & Objet, the world's largest international interior and design trade fair, is held in Paris twice a year. The three-year ARITA 400project for opening the European market and global rebranding first set up its booth in 2014 and in January 2016, a special exhibition of collaborative works with three leading creators representing Japan and the project producer Kiyoyuki Okuyama attracted much interest with the help of Japanese and overseas media. What fruits will Arita harvest this third season?
May 27, 2016
Written By Takaharu Hamano
A distillation of two years' experience: 400 refined and polished Arita porcelain pieces captivated visitors
「Maison & Objet held every January and September in Paris is a trade fair visited by some 80,000 industry people and where over 3,000 companies from all over the world showcase their furniture, decorative ornaments, tableware, and the like; Maison & Objet is an important international font of new lifestyle trends.
The ARITA 400project, one of the great initiatives celebrating the 400th anniversary of Arita porcelain, held its third exhibition from January 22 to 26 at Maison & Objet Paris 2016.
Based on the invaluable experience and overseas evaluations gained from the Arita debut in September 2014 and the follow-up September 2015 show, for January 2016 the project team presented some 400 pieces, and once again disseminated the quintessence and excitement of Arita porcelain to the world. The porcelain's extraordinary quality and beauty enchanted many visitors.
In the aftermath of the November 2015 Paris attacks, security for the fair was high with baggage checks, and the number of visitors was slightly lower than an average year; the venue's atmosphere differed from previous years, which perplexed our participating companies. Even so, the beauty of ARITA wove its spell and during the show, they had many promising business talks.
At the opening-day reception hosted by Saga Prefecture, Mr. Yamaguchi, Governor of Saga Prefecture, gave a welcome speech reviewing the 400-year ceramic history and encouraging visitors to enjoy the exhibition and see just how modern-day Arita porcelain still keeps evolving and taking on new challenges. Some journalists said, "Recently we often hear the name of ARITA. Everybody sees it has a positive image, and its branding is making progress," and one buyer commented, "I can clearly see their approach, which is to take up the challenge of something new while maintaining the old traditions." As seen by such positive comments, ARITA was highly appreciated, and there was even an inquiry from a world-renowned high-end brand, which is likely to develop into long-term business. As a new step toward opening the overseas markets, the project has been steadily producing good results.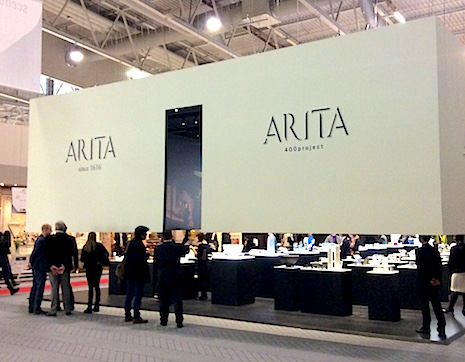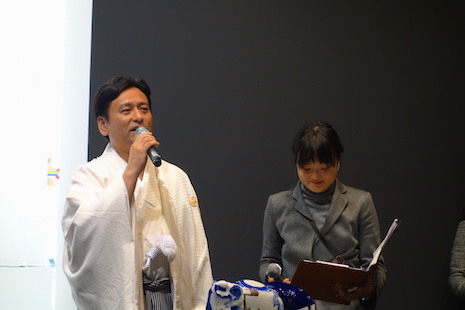 Special exhibition of collaborative works with Japanese leading creatives
In this show, a special exhibition was also held to showcase ARITA works designed by the project producer Kiyoyuki Okuyama and three leading creators representing Japan, Beat Takeshi, Kengo Kuma, and Kashiwa Sato. The designers collaborated with 8 companies who took on the challenge of producing these often technically-difficult pieces, but success was achieved by freely employing advanced techniques developed by artisans over generations, and the cutting-edge technology and digital design of the Saga Ceramics Research Laboratory. At the second-day conference held in front of the special exhibition booth, Mr. Yamaguchi, Governor of Saga Prefecture, Kiyoyuki Okuyama, and Kashiwa Sato took the platform. They explained the project vision and concept of the works to an appreciative packed audience including journalists. The exhibition of collaborative works made with the guest creatives drew much attention with many visitors commenting, "All the designs are so elegant and beautiful."
For the presentation in the show, the three internationally-renowned guest creators made the following comments on their experience of creating and collaborating:
Beat Takeshi (comedian, film director)
"I think if people looking at the works feel something in their own way, it'll be alright. I started playing with the idea, what happens if traditional Japanese crafts in different materials are combined? I also thought up completely new shapes which might be interesting when created as a ceramic. I then drew pictures off the top of my head. The artisans in Arita saw many of these pictures and gave shape to their feelings. It's interesting how each company's way of perceiving is expressed in the works."
Kengo Kuma (architect)
"The title of this work is Wave. The issue to tackle was how light and delicate we could be with something heavy like clay. We aimed at giving lightness to the ware by replacing a shell-shaped ware with an aggregate of frames. I know my design was technically difficult to shape, but the computer-based cutting-edge technology and traditional advanced skills led us to a great end product. Arita while maintaining its long tradition always takes on challenges to surpass itself."
Kashiwa Sato (art director, creative director)
"Dissimilar is the concept underlying a series of works based on simple plates. Many contradictory elements, such as innovation and tradition, coincidence and inevitability, past and future, chaos and tranquility, and eternity and the moment, are encapsulated in the 13 pieces. In this collaboration, while making the best use of Arita porcelain's history, tradition, characteristic techniques, and colors, I incorporated two contradictory methods - design by accident and design by logic - to create powerful, yet delicate finishes with a strong visual impact."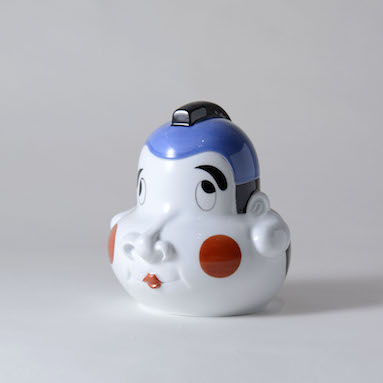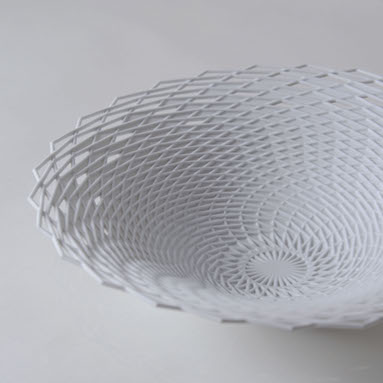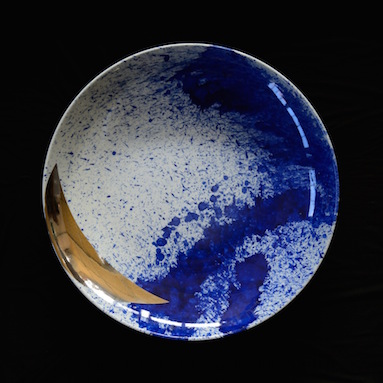 Lessons learned and things to come
It is said the secret to success in overseas trade fairs is simple: repeated exhibition builds trust and leads to business talks. With just a single exhibition, it is hard even for a brand name to be remembered. Over three years, the project team has constantly maintained interest by its strong challenging approach and by expressing their own monozukuri (art of manufacturing) concepts in their products; this has been seen by the changing reactions at each exhibition. In the debut many visitors had their first contact and came to know Arita as an important Japanese porcelain production center with 400 years of history; at the second show repeaters recalling the previous-year exhibition headed for the ARITA booth; and in the third fair some buyers straightaway started talking terms and conditions for a specific product they remembered from the previous time. It seems an increase in the recognition level of visitors was linked to increased business talks.
Participating companies, as a matter of course, absorbed the direct reactions of visitors, and then thinking about suitable products for release at the next Paris show, incorporated such new ideas into product development free from the conventions of the past. They also prepared materials to help visitors understand and remember products, and improved contact sheets, etc. to make note of buyers' opinions at business talks and connect to any follow-up; in this way, they invested time and effort to facilitate smooth business talks. Their collective efforts resulted in substantial sales, and the invaluable experience of exhibiting their products overseas, promoting them on their own, and dealing with buyers and their orders after returning to Japan.
The reputation earned in Paris has spread within Japan, and in response to many domestic requests to see the exhibited products and works, the ARITA 400project is now planning triumphal homecoming exhibitions in the Tokyo metropolitan area and Saga Prefecture; watch this space for the further expansion of ARITA.