TOPICS
014
ARITA SELECTION report 1
Mame what? Mamezara, the classic palm-size small dish: Firing up a new generation of fans in Japan
Mamezara, literally small dish, measuring about 10 cm in diameter have been produced in their millions since around 1640 in Arita; they are a quintessential piece of Japanese tableware adding charm to dining tables across the length and breadth of Japan. This article explains how the ARITA SELECTION project focusing on mamezara is capturing the hearts of new fans for Arita porcelain and the region?
November 27, 2015
Written By Shinsuke Miyazaki
What can we choose from the Arita heritage treasure chest to display anew? A big question with a tiny answer: we give you delightful charming mamezara
n the ARITA VALUE CREATION LAB (also known as the Ari Lab), experts from outside the region and wholesalers and those involved in the production center gather to discuss the creation of new value from Imari and Arita porcelain regions. The Ari Lab periodically holds interim report meetings to share the latest information and the results of each project in ARITA EPISODE 2 for revitalizing the entire production center. The meeting of August 19, 2015 saw the introduction of several ARITA SELECTION initiatives.
ARITA SELECTION is a project redesigning and representing those "already existing products" that no one pays much attention to; like their makers they sit quietly in the background of daily life. The project has focused on mamezara. In addition to the basic circular or oval shapes, mamezara also come in a variety of shapes and motifs such as turtles and rabbits or Mt. Fuji; with such a long history, patterns naturally vary from the traditional to modern. Mamezara were selected as an ideal catalyst to introduce Arita porcelain to those people who have never come across its beauty or had the opportunity to dine on Arita porcelain before.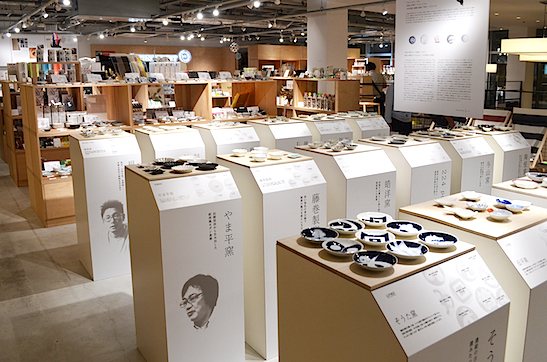 Five events showcasing mamezara, one attractive book, and thousands of happy mamezaristas
From June 10, 2015, for 7 delightful days, the Tokyo Isetan Shinjuku Store hosted an exhibition and sales event displaying an amazing selection of 147 types of mamezara fired by 26 Arita porcelain producers. With prices to suit every pocket from 460 to 30,000 yen, an extraordinary variety of Arita porcelain mamezara were arranged in one large display room; this unprecedented event proved to be a resounding and successful tryout. Sales were not just left to the regular store staff, representatives from three local trading companies also introduced products and saw the response of consumers at first hand. Seeded by about 300,000 direct mails and news releases issued by the Isetan Shinjuku Store, along with magazine and Website articles, the event was so well attended that about 3,000 dishes were sold in 7 days. A buyer commented: "Customers often reported how much fun it was to choose from so many different types of dishes; this event has certainly been received well. It also attracted quite a few foreign tourists, some actually buying in bulk. They make such great souvenirs." Following up on this success, four similar events have been held so far including one in the Tsutaya bookstore, Daikanyama and another in a gallery in Shonan; every event was equally as popular.
To provide a little history and context to mamezara, a companion short guide book titled "Kinshai Arita Mamezara Kiko" (Please Come Along! A Trip to Arita Mamezara) was published; explaining the origin of mamezara readers were introduced to some of the colorful personalities and highly skilled stars in the world of Arita. With a feast of full-size mamezara pictures in a variety of styles to enjoy, and detailed articles introducing the Arita production center along with a newly opened Website, people were treated to an enticing glimpse into the fascinating world of mamezara. Since the book's publication in June 2015, enquiries from buyers have grown continuously coupled with increasing numbers of fans directly visiting kilns and studios to purchase mamezara. All these initiatives are a part of a coordinated approach encouraging people to see a mamezara, pick it up, and feel it in their hand, and a broader initiative to develop a form of inbound "industrial tourism."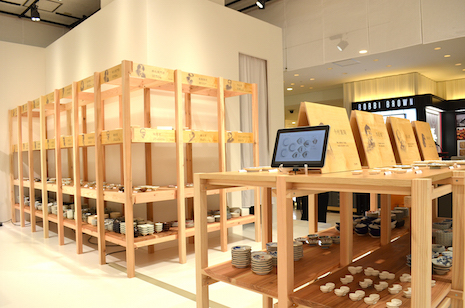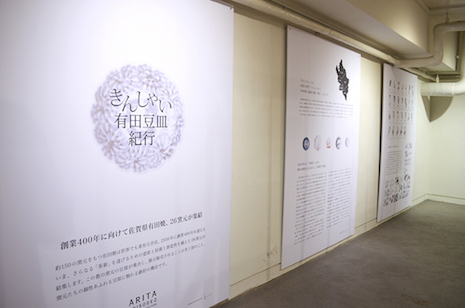 A production center where makers and takers create the perfect brainstorm
The ARITA SELECTION is supervised by Hideyoshi Nagoya, a design producer who offers total service from monozukuri (art of manufacturing) through to sales and distribution. He said: "There are plenty of wonderful products in Arita porcelain. By focusing on the remaking of already-existing products and firmly establishing a mechanism to sell them we can make sales without developing new products; the project has proved the value of this approach."
"All representatives of trading companies from Arita, who participated in the Shinjuku Isetan event, found that by meeting customers face-to-face, they were able to directly convey the consumer response to the porcelain producers. Traditionally, the mainstream of Arita porcelain marketing has been the trade from the local wholesalers to the urban wholesalers, and local wholesalers have had no opportunity to directly make contact with customers. From now on, I'm sure it will be useful for the local wholesalers to meet customers at the end of the chain and gain a lot of information by witnessing their response. In the Arita production center, there are many people who love making pots (makers for the market), but even though they have a strong artistic passion, their ability to sell appears to be a bit weak, so the role of local trading companies (takers to the market) is very important. It is alright that the trading companies in Arita are fabless manufacturers; they are responsible for marketing products until they fall into the hands of customers. These days are the seeds of the next 400 years."
We are confident that the challenge posed by the ARITA SELECTION will be an opportunity for the makers and takers of Arita porcelain to mutually explore "the best ways of presenting the appeal" of Arita porcelain, and the answers arising from this inquiry will be the first steps on the road to Arita's future.
Special page