TOPICS
012
EXPO Milano 2015 Project report 1
An ARITA Wind Blows Through Italy. Three Hot Days in EXPO Milano 2015.
At the end of May 2015, students of Arita College of Ceramics had a great time participating in the three day ARITA promotion at EXPO Milano, Italy. These young people will be the support and driving force of the future Arita porcelain, and they certainly made their mark impressing the name of ARITA as a ceramics producing center into the hearts of visitors to the exhibition. Their piece de resistance, which we will reveal later, stole the show; we will introduce their exciting project in detail and report on the exhibition site.
August 14, 2015
Written By Kaho Takahashi
Promotion at EXPO Milano
A three day promotion titled ARITA PORCELAIN PARK in MILANO BY SAGA PREFECTURE was held from May 31 to June 2, 2015 at the Japan Pavilion Event Plaza of EXPO Milano (universal exhibition in Milan, Italy). EXPO Milano runs to the end of October with the theme of "Feeding the Planet, Energy for Life." One of the on-site Japanese restaurants, Minokichi, serves exquisite dishes on 42 types of beautiful Arita porcelain tableware, and Saga Prefecture's exhibition introduced and promoted its local cuisine along with a popular food and drink tasting event. The whole occasion perfectly showcased local delicacies and Arita porcelain to many visitors.
In the nearby event space, traditional craftsmen demonstrated their skills on the potter's wheel and at ceramics painting; a photo spot was created for visitors to pose in front of a stunning array of Arita porcelain. In addition, a surprising revamp of an old and popular Japanese arcade game presented Arita in a new and enjoyable way to the next generation; ladies and gentlemen, we bring you news of the Arita Porcelain Capsule 2016.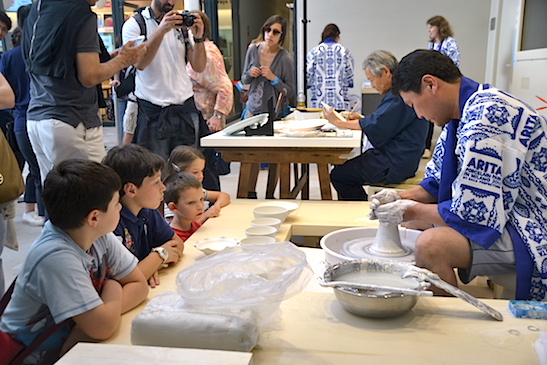 How many dreams can you capture in a 75 mm diameter capsule?
The big question before EXPO Milano was: "What is the best way of impressing European people who know nothing about Arita porcelain?" One brilliant answer proposed by students of Arita College of Ceramics was to upgrade the popular Japanese gacha gacha (capsuled-toy vending machine) by encapsulating Arita porcelain; and so was born the Arita Porcelain Capsule 2016. A classwork project celebrating the 400th anniversary of Arita porcelain in 2016 gave birth to Gachapo; students had the idea of containing a miniature ceramic doll (gacha gacha porcelain) inside a capsule as a new product format to help broadly spread the name of Arita. As an inspirational motif, students studied a 400 years old piece "Large Dish, Blue-and-White Ceramic Ware Depicting Ceramic Workers in Arita Sarayama" and created their own modern versions in the form of 8 miniature ceramics depicting Arita porcelain artisans and the tools of their trade.
For the EXPO Milano promotion, just 2016 pieces were lovingly packed into capsules; they included the very best of the student pieces, and the original Gachapo dolls along with a special collection selected by porcelain producers. At the exhibition venue, gacha gacha was a smash hit with both children and adults queueing to play the machines; as nobody knows what will come out, the excitement of the mystery coupled with the beauty of Arita porcelain proved fantastically popular. Soon all the capsules were adopted by 2016 foster parents.
Two students representing Arita College of Ceramics attended the show and performed valuable PR work for Arita porcelain: Megumi Hashioka, one of the students involved in the original Gachapo idea; and Rina Yano, who designed and produced straps with a potsherd motif. As small seeds encapsulating students' wishes to share Arita porcelain, the town, and its history with the next generation, these small gifts of porcelain crossed the ocean to Europe to bear fruits of delight among so many people.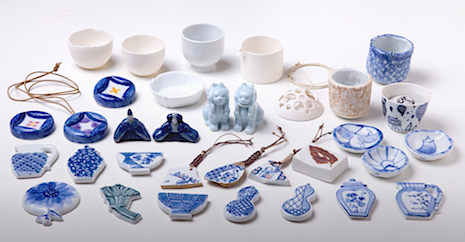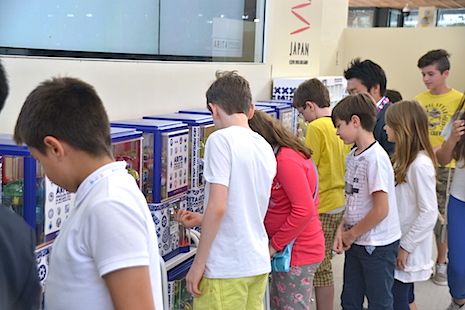 Invaluable experience gained in EXPO Milano
In EXPO Milano, the exhibition staff wearing happi-coats printed with the blue ARITA logo and porcelain patterns on a white background harmonized perfectly with the event venue, which also picked up on the white and blue theme, giving a feeling of unity among the space, the products, and staff. There was a great team spirit with everyone busily entertaining guests and through their unflagging efforts many visitors came to see and know the wonderful world of ARITA at first hand. "During every Arita stage event, I felt an appreciative atmosphere in the audience," commented Etsuko Miki, a teacher at Arita College of Ceramics.
"I felt once again that when anything is made wholeheartedly, this quality is conveyed to the receiver. I gained invaluable experience seeing the response of people in Europe when they handle Arita porcelain, all of which will be useful for considering the development of future overseas strategy," reported Hideki Baba, a staff member of Saga Prefectural government.
These small ARITA capsules seeded in Milan certainly delivered the monozukuri* of Arita and each maker's dreams. These young people, our next generation of leaders, took on the challenge of PR and their brilliant idea won hearts overseas. The experience and openness to new viewpoints gained from such international activities will be indispensable for the future Arita.
Special page