TOPICS
011
ARITA Revitalization report 1
What Can We Do with What We Have Right Now? Rebranding of Arita.
In 2016 Arita porcelain will celebrate the 400th anniversary of its foundation. Now the next stage ARITA EPISODE 2 has been launched, and porcelain producers in Arita, by focusing on their own individuality, are rediscovering traditional skills and values developed over 400 years and rebranding themselves to once again take center stage within Japan. The following introduces the activities of the ARITA Revitalization project.
July 31, 2015
Written By Hiroko Mineoka
Awareness of individuality, value, and true nature is important to define a pottery's identity
The ARITA Revitalization project is one of the key initiatives in ARITA EPISODE 2. Arita porcelain has fascinated the world, but in the present economic climate with a decreasing demand for Japanese tableware caused by changing lifestyles; a decline in competitiveness against increasing low-priced imports; and a sluggish economy reducing demand for tableware from the catering trade, sales have fallen to just 20% of those in Arita's heyday. Today every porcelain producer is forced to engage in a hard-fought struggle for business. Hiroshige Akase of Made in Japan Project Co., Ltd. says: "In fact, market research shows the brand recognition of Arita porcelain within Japan is declining. I also hear porcelain producers look upon their grandfathers' era as a sort of golden time, which of course only encourages a feeling of helplessness." For the past six years or so, Mr. Akase has been involved in the revival of the Arita porcelain producing center, and now serves as the Producer of ARITA Revitalization, one of the 400th anniversary celebration projects. He is passionate about the significance of the project: "Artisan skills and high quality based on a 400-year tradition are firmly rooted in each porcelain producer's ethos, and their own individuality, strengths, and value are essential, but it is also important for them to keep the fundamental nature of their business in mind, namely they must produce mono (porcelain ware) that earns them an income."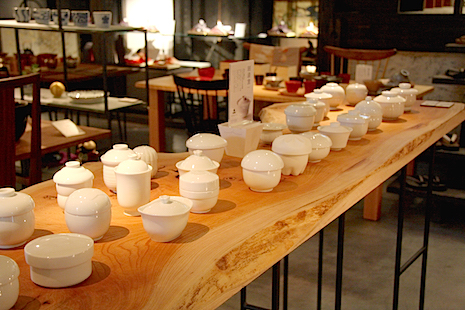 A brush-up in tune with the times
The ARITA Revitalization project has two halves: Moving On and the Revitalizing Project.
In the first year class of Moving On, started in October 2014, six porcelain producers seriously reviewed their history, and rediscovered already existing products. Class members are encouraged to consider what they can do with "what they have right now," and each pottery makes the best use of their own strengths to establish first an individual brand identity, which then contributes to the collective brand image of all porcelain producers, and the revival of Arita porcelain in the market.
Mr. Akase reports: "We continued detailed work exploring what is the strength of each pottery by reviewing and finally committing to paper their fundamental concepts, logo, and company ethos. As a result, the individuality and position of each pottery were clarified. Before this exercise, since every porcelain producer more or less looked in the same direction, there has been price competition among producing areas." A little over six months have passed, and the participating porcelain producers are becoming more positive, and Mr. Akase has noticed a good response: "When individual branding is established, as a porcelain producer they can have more pride in what they are doing, and confidently invite people to their pottery. This will increase motivation and their overall enthusiasm for the future rather than just focusing on whether products are selling well or not today."
By changing where and how to display the products, the Arita porcelain image changes. In March 2015, the restructured new brand was test-marketed in Tokyo Midtown; from the results, the project team rooted out problems, and further polished branding before showcasing in June at the Interior Lifestyle Tokyo 2015 held at Tokyo Big Sight. The porcelain producers came face-to-face with visitors, and experienced firsthand responses; all this activity created a feeling of confidence. The next step is to promote specific business talks with those retailers they met at the exhibition.
Arita with high potential
Two companies are participating in the Revitalizing Project, which identifies management issues and improves production sites, in parallel with discovering and reframing undervalued and attractive aspects of products. Tomoni Nagumo, the Project Director, working onsite with company representatives, analyzed problem production areas for the two companies, and drew up strategies. Ms. Nagumo comments: "Many artisans are not good at marketing or the IT-related fields, this is commonly found in Japanese traditional industry, and Arita is no exception; but it's not lack of ability, more a lack of opportunity. Once they have experienced new approaches to marketing and the convenience of using PCs, they are like a fish in water and soon swimming. For example, by identifying inefficiency in the manufacturing process, they can prepare a work instruction sheet to solve a problem, or create marketing materials using PowerPoint; when they become engaged, such successes lead them on to the next challenge." She also emphasizes: "The region has high potential; I want them to see they have promise and possibility. Companies exist for society. If, by increasing added value, profits are created, they can fulfill their role to return value to society, and this is also good for the companies in every way."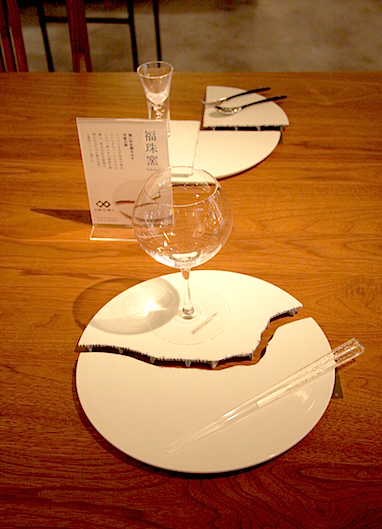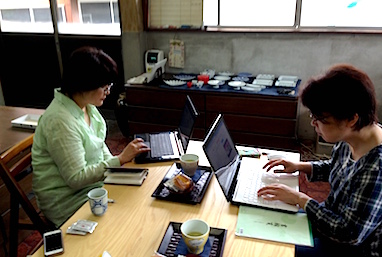 Reviving the World Arita
By presenting successful examples of porcelain producers, a ripple effect will spread across the entire Arita porcelain industry. Once Arita changes, such changes will lead to a revival in the domestic market. The project will continue with a second class, starting in July 2015, and a third class; these two leading figures smile broadly when talking about the year 2016 celebrating the 400th anniversary: "We know it's not easy, but we want to help establish the base for individual branding, and support them to become independent. By open discussions, we can work through suspicions, and both sides explore what is possible."
"Of course local residents have always been aware of Arita porcelain, but many people may not be aware of what is good about Arita porcelain; they are apt to overlook something worthwhile that's been so close at hand. It's stimulating for them to really see which porcelain producer is doing what." They look forward to what will happen next, as little by little, the World Arita is being revived.