TOPICS
010
Manufacturing Innovation Project report 1
Digital Design Technology Shaping the Future.Direct 3D Printing of Arita Porcelain.
As a part of the Arita porcelain 400th anniversary celebrations, the Saga Ceramics Research Laboratory is working on an exciting innovation to the Arita porcelain manufacturing process: the development of the next generation ceramic digital design technology. In March 2015, the Laboratory succeeded in the first stage development of Ceramic 3D-Direct Print-Out (C3DPO) technology, using raw ceramic materials to 3D print ready-to-fire ceramics. The following features some of the extraordinary possibilities opened up by this technology.
July 10, 2015
Written By Takaharu Hamano
Saga Prefecture now applying digital technology to manufacture ceramics
The Saga Ceramics Research Laboratory, located in Arita Town, is a prefectural public testing and research institution supporting the promotion of the ceramics industry and companies marketing new materials and fine ceramics. Traditional ceramic manufacturing technology is strongly reliant on experienced craftsmen, and over the past 20 years, the Laboratory has been researching the digitization of production with the aim of spreading 3D digital technology throughout the prefecture's ceramics industry, centered on Imari and Arita.
In the mass production of ceramics, it is common practice to use casting molds made of gypsum, into which porcelain clay, the raw material of ceramics, is cast to manufacture the base.
In the digitization of ceramic manufacturing, digital design technology and the current hot-topic 3D printers have both been applied to the manufacturing process.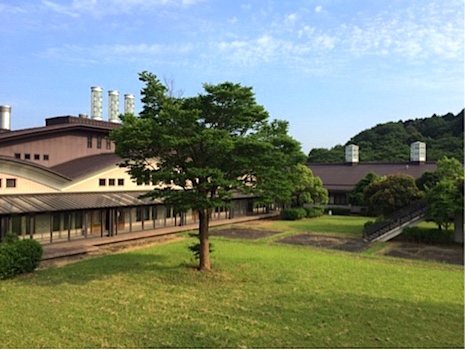 Firstly, in the stage before actually manufacturing a product, computerized 3D data is fed to a 3D printer and a solid form is created using plastic, gypsum, or the like; these materials are not raw ceramic materials and are only used by the 3D printers to output a sample shape, which is useful to check and verify the shape, design, and function of a piece. Moreover, by using a computer-controlled NC milling machine and 3D data, the gypsum is automatically processed to make a casting mold or prototype.
In either case, the item produced is a sample shape made of plastic, gypsum, etc. or a mold for mass production. In this process, it must be noted that application of 3D printers is for indirect formation, because a mold is still required to mass-produce the actual products, and in this point, the process is no different from the conventional production system (Fig. 1).
Development of the Ceramic 3D-Direct Print-Out (C3DPO) technology with much new potential
In recent years, the holy grail of forming ceramics directly by 3D printers has been much researched in development institutions all over the world. Among previous development examples of direct formation, although there are some examples of metals or the like, the majority involve plastic, and it has been considered as extremely difficult to use raw ceramic materials requiring a high temperature firing process.
Since 2013, led by Kiyoshi Soejima, Chief of design section in traditional ceramics division, extensive technological research has been carried out to directly form ceramics by firing the base output by a 3D printer using ceramic raw materials; in March 2015, the Laboratory finally announced their success.
The first generation C3DPO technology is different from the existing production system, and enables mold-less manufacture. In 3D printing, 3D scanner measurements and computer-designed data are cut into thin layers, laid on top of each other and output; there are several 3D printing methods, and the Laboratory's technology employs 3D printers with a system building up layers of powder before output. Amakusa porcelain clay, as used in regular Arita porcelain, is powdered and mixed with an organic adhesive binder, capable of capturing detailed contour lines, and the 3D printer solidifies the mix and the base is output, before firing in the same way as regular Arita porcelain at about 1,300°C to produce a ceramic piece (Fig. 2).
C3DPO technology: Its significance, challenges, and future
The ceramics industry has greatly relied on the traditional skills and experience of craftsmen; however, today, in many different manufacturing industries, we find that production methods applying information communication technology (ICT), such as computers and 3D printers, have been introduced extremely rapidly, and C3DPO technology enabling direct formation without a mold has revolutionary potential in the manufacturing and distribution of ceramics of the future.
However, Mr. Soejima says: "These prototype works directly formed by using the current C3DPO technology are not perfect ceramic ware, as they lack strength, and are not suitable for practical use yet. Research is continuing to solve several issues including an improvement to dimensional accuracy, density, and strength, and peripheral technology to enhance the degree of flexibility in formation." With the solving of these issues and further development of C3DPO technology, the following effects can be expected.
Firstly, the technology will enable manufacturing of ceramics with far more complicated shapes, which could never be achieved by the conventional manufacturing method using a wheel or gypsum molds, and lead to the development of outstandingly designed products. Mold-less production will make it easier to produce single pieces, which increases the possibility of the commercial manufacture of short production runs. Moreover, shape examination across time zones and space by data exchange, and a reduced production process with quick trial manufacture will lead to lower costs. In future, C3DPO technology will drive market development and the establishment of new business models, such as a made-to-order system for ceramic ware designed by everyday users.
As a project to celebrate the 400th anniversary of Arita porcelain, the Laboratory also researches materials and technology, and is making progress in the development of the world's very strongest and finest porcelain materials. Traditional monozukuri *and monozukuri making the best use of new innovations; by combining traditional and modern techniques, ARITA is on the edge of moving beyond the old boundaries into a new free form of monozukuri.