TOPICS
005
Spread of a porcelain-making culture report 1
World-Class Craftsmanship with Artisans' Pride at Stake. WHITE GOLD from Saga: A Special Exhibition of the Glowing Individuality of the Arita, Imari, Takeo, and Ureshino Production Centers.
Arita porcelain so enchanted European royalty and aristocrats, it came to be worth its weight in gold and was known as "white gold." From October 4 to November 24, 2014 a special exhibition, WHITE GOLD from Saga, was held in Saga Prefecture's Kyushu Ceramic Museum. We interviewed Yukio Suzuta, the museum's curator and director about his views on the exhibition.
March 31, 2015
Written By Masumi Kimoto
Visitors were fascinated by these highly original works from the four greatest ceramic production centers
The production center of Arita porcelain actually covers a larger area than the administrative district of Arita Town. With a focus on the ceramic ware from Arita, Imari, Takeo, and Ureshino, the four preeminent areas of large-scale production, a special exhibition WHITE GOLD from Saga was held in the Kyushu Ceramic Museum of Saga Prefecture from October 4 to November 24, 2014.
The exhibition showcased many splendid Arita porcelain works with examples of the Kakiemon and Imaemon styles, and a string of dignified and fine Imari porcelain pieces, along with the charming but quite different styles of Takeo and Hizen-Yoshida ware. The brilliant technique of transparent designs found in Takeo-Ganju ware was much admired by visitors, and sometsuke (blue and white) large-dishes made in the Shida kiln in Ureshino and charmingly decorated with Daikoku, the God of Wealth, or Ebisu, the God of Shipping, Fishing, and Commerce, raised many a smile.
The museum collected an amazing and diverse range of ceramics to fascinate visitors, and Yukio Suzuta, the Director of the Kyushu Ceramic Museum, explained the historical and production background of the pieces: "We find a strong sense of local pride and rivalry with a keen competitive edge acting as the great driving force behind these superb ceramics."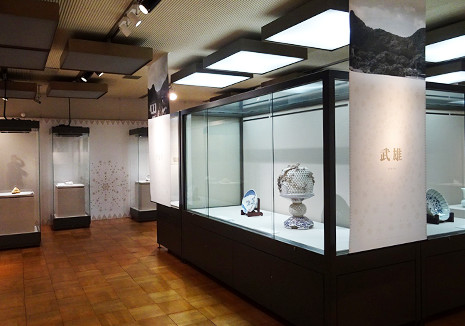 Competition among production centers sharpens up the brand
In the early Edo period, Izumiyama porcelain clay, the raw material of high quality ceramics, was discovered in Arita, leading to the successful production of Japan's first porcelain, concurrently with the establishment of the area around Arita Town as an important center of ceramic production. However, the only kilns permitted to use the Izumiyama top quality clay were in the Arita district under the direct control of the Nabeshima principal domain, and its kilns in the Okawa-Uchiyama district in Imari, which were producing quality pieces often given as gifts to the Shogun's family. The other districts under the control of vassal domains, including the present-day cities of Takeo and Ureshino, were only able to use local porcelain clay of an inferior quality. Moreover, the aka-e style of ceramics with their rich colors was restricted to Aka-e Town in Arita, and production in other areas was prohibited. Under such restrictions the Takeo and Ureshino kilns were severely disadvantaged and turned to producing large quantities of daily ware.
Despite these handicaps, visitors to the WHITE GOLD from Saga exhibition were rather surprised by the quality of works from Takeo and Ureshino. Director Suzuta told us: "We assumed that we wouldn't find so many pieces of high artistic merit from Takeo and Ureshino, but once we started collecting, we found these two districts actually had a good many top-quality pieces. Under such unfavorable conditions, potters made every effort to produce good pieces, and their enthusiasm touches our hearts."
"In Yoshidayama in Ureshino, from the 1650s the kilns had mastered the aka-e style, but in the 1660s, aka-e was confined only to Aka-e Town in Arita under the direct control of the principal domain. In those days, due to political turmoil in China, there was a huge demand from Europe resulting in massive orders for aka-e; we can only wonder at the frustration of the kilns and their potters, who had to give up aka-e." (Director Suzuta)
From the Meiji period onward, many outstanding ceramic artists were born in Takeo and Ureshino, contributing to the commercial success of local potteries; such achievements can be seen as the fruit of their passion and efforts to perfect a monozukuri or craftsmanship that was to be passed down over many generations.
On the other hand, even though they had distinct advantages, the pressure felt by potteries in Arita and the domain kilns in Imari, to maintain the very highest standards of monozukuri, must have been a serious matter. Director Suzuta considers: "Keenly aware of pressure from their competitors, they had to outperform their rivals, which resulted in increasingly high levels of skills and established the brand power of Arita porcelain."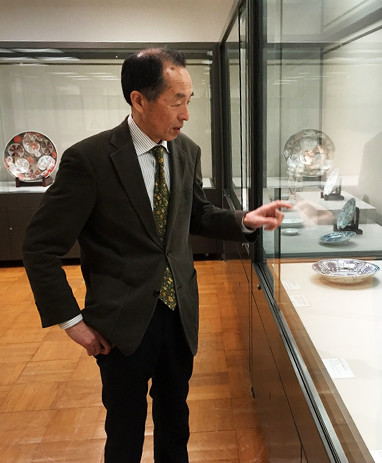 Exploring the frontiers of hi-tech and new design
In the exhibition, "teamLab" led by Toshiyuki Inoko, made a stunning presentation of digital art, which aroused considerable interest; ceramics met silicone chips. In the magical world of the Café Future Arita Porcelain, a collaboration of digital art and ceramics, once a customer places their Arita bowl or plate on the table, its butterflies, birds, and other digital designs suddenly come to life, and with this interactive play of light and movement spreading out into room space, a new way of enjoying and appreciating ceramic pieces, quite different from anything ever seen before, was created, capturing many new admirers. This firing of kilns and imagination demonstrated the potential of ceramics as a presentation medium. Thanks to the development of digital technology, we set our hopes upon a future with an ever widening range of diverse artistic expression conveying the attractiveness of ceramic ware.
After peaking in 1990, the sales of Arita porcelain have steadily declined, and the challenge for the ceramic industry today is how to hand over the 400-year history to the next generations. Director Suzuta enthuses: "Consumer needs and preferences are now diversifying, and the media environment is changing at a bewildering rate; in this climate, there is a pressing need to connect to new demands while continuing to unearth the history, thus expanding the circle of users."
By turning a spotlight on the individual strengths of the four greatest Arita porcelain production centers and their outstanding 400-year history, this exhibition, through collaboration with digital technology, has opened up new ground to help spread Arita into the future. The fascination and appeal of Arita porcelain is not just found in its history, but in its adapting of modern technology to meet today's new challenges with no compromise to its traditional standards. It is exactly this passionate commitment to the past and the future that makes Arita porcelain the true white gold.
Movies