TOPICS
003
ARITA 400project report 1
Toward the next 400 years. The ARITA spring and a splendid blossoming in Paris.
We invited Kiyoyuki Okuyama, a global player on the industrial design scene, to be the producer and work with 8 ceramic businesses in the Arita area. The ARITA 400project is now full-speed ahead for the rebranding of ARITA porcelain across the globe. ARITA was first shown at the renowned international trade fair, the Maison et Objet, held in Paris in September 2014; we report this first outing and the project vision.
February 09, 2015
Written By Shinsuke Miyazaki
Exhibiting: the first step of rebranding
The Maison et Objet is a major international trade fair held at Paris Nord Villepinte, close to Charles de Gaulle Airport, in the north of Paris. The exhibition showcases furniture, ornaments, tableware, and the like, made by about 3,000 companies throughout the world, and amidst this cornucopia of swirling design trends, the buzz of big business deals and negotiations are in the air; it is as busy as a beehive or perhaps the popular head temple of an interior design sect. In September 2014, in this massive venue exceeding 250,000 square meters, ARITA made its first public appearance abroad in the Hall 7 gallery particularly known for displaying world-class skills and techniques. The monotone color booth displayed about 100 pieces from eight potteries and trading companies in Saga Prefecture. The ARITA 400project aiming to reawaken the 400-year monozukuri * DNA of Arita porcelain had started publicizing the rebranding and promotion of an Arita porcelain designed to meet and harmonize with modern needs and trends both in Europe and throughout the world.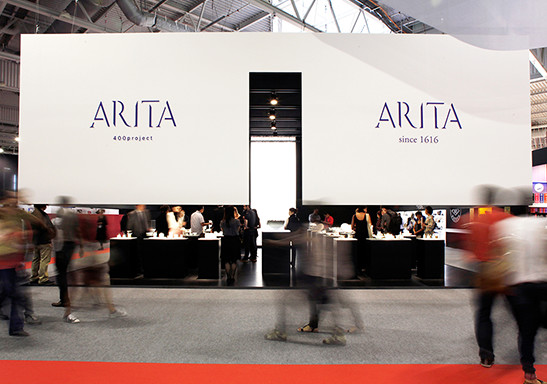 The one-year count-down to the Maison et Objet
In October 2013, the project started by inviting Kiyoyuki Okuyama (KEN OKUYAMA DESIGN) as the producer to share his expertise.
Mr. Okuyama is a prominent industrial designer who, under his company brand, integrates seamless planning, development, and sales for such varied goods as automobiles, interior products, and spectacles. He viewed that success in the exhibition depended upon providing a stream of interesting stories to draw attention to Arita porcelain. He said: "It is extremely important to suggest a 'narrative' relating the new concepts drawn from the 400-year history and traditions of the ceramic industry, and a hardnosed but imaginative look at the next 100 years and even the next 400 years. The narrative also includes how food culture has been cultivated alongside tableware, and how these influences will manifest in the lifestyle of the future." December saw a gathering of participating potteries and companies and the launch of a study group.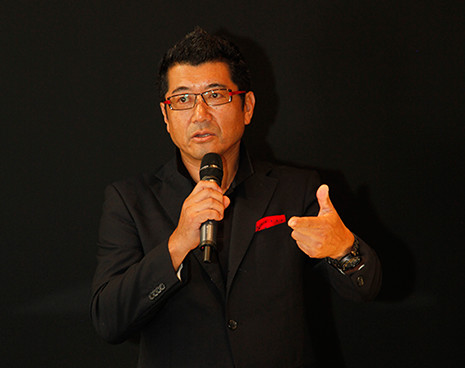 Revival of the old East India Company and commercial distribution
After the study group launch, Mr. Okuyama paid a busy visit to Saga Prefecture preparing the groundwork for the first Maison et Objet, holding interviews and meetings with potteries and companies, and making a courtesy call on the sponsor, Saga Prefectural government. He laid out his plan: "This year as time is so tight, we'll focus on spreading the word, it'll only achieve so much, but to increase our impact, we'll gather a variety of coordinated ceramic pieces ourselves; I think this is our best approach." But even so, he was very clear the purpose was still to "sell products by making inroads into overseas markets, and increase sales." In his overall strategy, an important goal is to establish a distribution system to sell mono (products). "To firmly establish a successful commercial distribution overseas, it is necessary to ensure commitment based on market survey information, for example, make a blue plate, you'll sell one hundred, make it in red, you'll sell two hundred. In a sense, I want to revive the function of the old East India Company, but for today's market." To increase the present 50 million yen of exports, by 10 or 100 times, the business scale must expand over a long period of time. He said, "From September onward (after the first show), we plan for the selling side to join in the initial stages of product planning." This is also one of the seeds sown to grow a large-scale business.
Innovation toward the establishment of ARITA (offered opinion)
Looking at product development on the Arita side, Mr. Okuyama firstly considered porcelain as a commercial material, and said: "It's in an interesting position, sandwiched between plastic and pottery, and although an industrially manufactured product, it has an image of single product production, rather like an artwork. Taken to the extreme, porcelain is neither one thing, nor the other; it is delightfully ambiguous. Even so, I want to review those functions that only porcelain can fulfill, after all, we don't eat or serve rice in a plastic bowl, so porcelain is something special that will never disappear."
To develop innovative Arita porcelain products, he outlined three key pointers.
First, carefully examine those pieces suitable for mass production, and create new 21st century porcelain as industrial products. "The traditional techniques to produce porcelain have been over emphasized, and too much time and effort spent on sections that cannot be seen by customers. Those parts where we can save time and effort should be refined even more; this would allow the team to spend more time concentrating on the graphics and mold making, both of which can be done so precisely with today's technology." The second point is to create porcelain as "art pieces" firmly at home in modern art, ultimately we would establish "porcelain as art." "I'm going to be pondering, what's the very best flagship we can launch? I'm very interested in positioning porcelain as modern art." Finally, the third is stimulation. "We need stimulation. By involving creative people with both competency and a good reputation in our collaboration projects, we want to offer topicality, and receive stimulation from creators bringing in many diverse influences."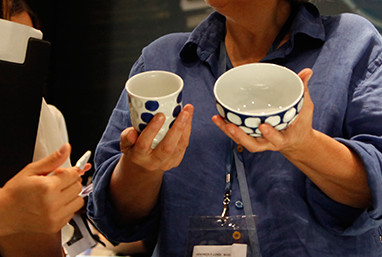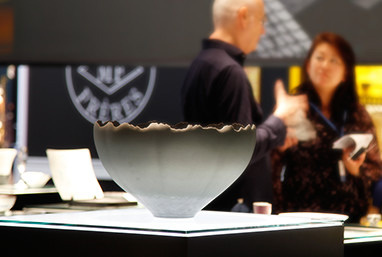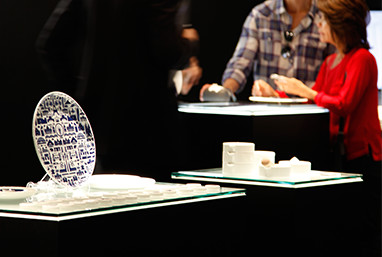 Toward the next 100 years and even the next 400 years
For the three-year Maison et Objet exhibition project, Mr. Okuyama set 200 million yen as the overseas sales target by 2017. He said, "We will very carefully draw up a detailed three-year plan. Our primary goal is to increase sales. Obviously we expect to disseminate information and for Arita porcelain to stand out, but I'm really not interested in just covering our costs; that's absolutely not my way." To the participating potteries and trading companies, he offered enthusiastic advice: "I want you to really experience a "show" with your own eyes and feel it in your heart; it's like being in love, when you are still at the stage where you have just asked a girl on a date. I know there are differences in how much each company can invest, but during these three years, please think hard and decide whether to deal with overseas through an agent, or to look for a company who want to establish agents and stores. You also need to know how to create a system to continuously develop overseas markets." Concerning products: "I regard the first show as valuable test marketing, from which we can feed back trends and ideas into an evolving range of products ready for the next exhibition." The rebranding "ARITA 400project" came from a hard look at the next 100 years and even the next 400 years. We all wonder what flowers will bloom and fruits will ripen? Please expect our future reports.
■Participating companies in the ARITA 400project (no particular order)