TOPICS
002
2016/ project report 1
Connecting our spirt of monozukuri: Firing up the 2016/ project.
Welcoming Teruhiro Yanagihara, who continues borderless activities, as the creative director, and the design duo Scholten & Baijings as co-creative directors, a collaboration of 16 groups of world-class designers, and 16 potteries and trading companies is now about to produce a new and innovative brand, 2016/.We feature the fiery heart of collaborative ceramic monozukuri with a steady look at the future of Arita porcelain.
February 09, 2015
Written By Shinsuke Miyazaki
Photograph By Kenta Hasegawa
A new Arita brand: The path from 1616/arita japan to 2016/
400 years of continuous Arita history and porcelain monozukuri * will be carried on far beyond 2016 in a unique collaboration. In November 2013, Saga Prefecture and the Embassy of the Kingdom of the Netherlands concluded an Agreement for the Exchange of Creative Industries, and in closer cooperation with the Netherlands, a product development project started the creation of a platform. The heart of the project is captured in its name 2016/ (twenty sixteen) expressing the connection of the past to the future. This exciting cross-border venture marks a new chapter in government and private collaboration, and includes Saga Prefecture, Arita Town, and the Embassy of the Kingdom of the Netherlands, working with Teruhiro Yanagihara and the design duo Scholten & Baijings as project directors, and 16 selected potteries and trading companies, and 16 groups of designers from around the world.
When we consider the beginning of this splendid project 2016/, it is essential for us to mention the 2012 launch of an Arita porcelain new brand, 1616/arita japan (sixteen sixteen Arita Japan). Teruhiro Yanagihara is well-known for his borderless activities of designing a wide range of products, including tableware, furniture, and even spaces, and he is the creative director and designer of 1616/arita japan. Scholten & Baijings designed and produced its stable mate 1616/S&B, which won international acclaim as the best in the tableware category of the world's prestigious design award, Elle Deco International Design Award (EDIDA) 2013.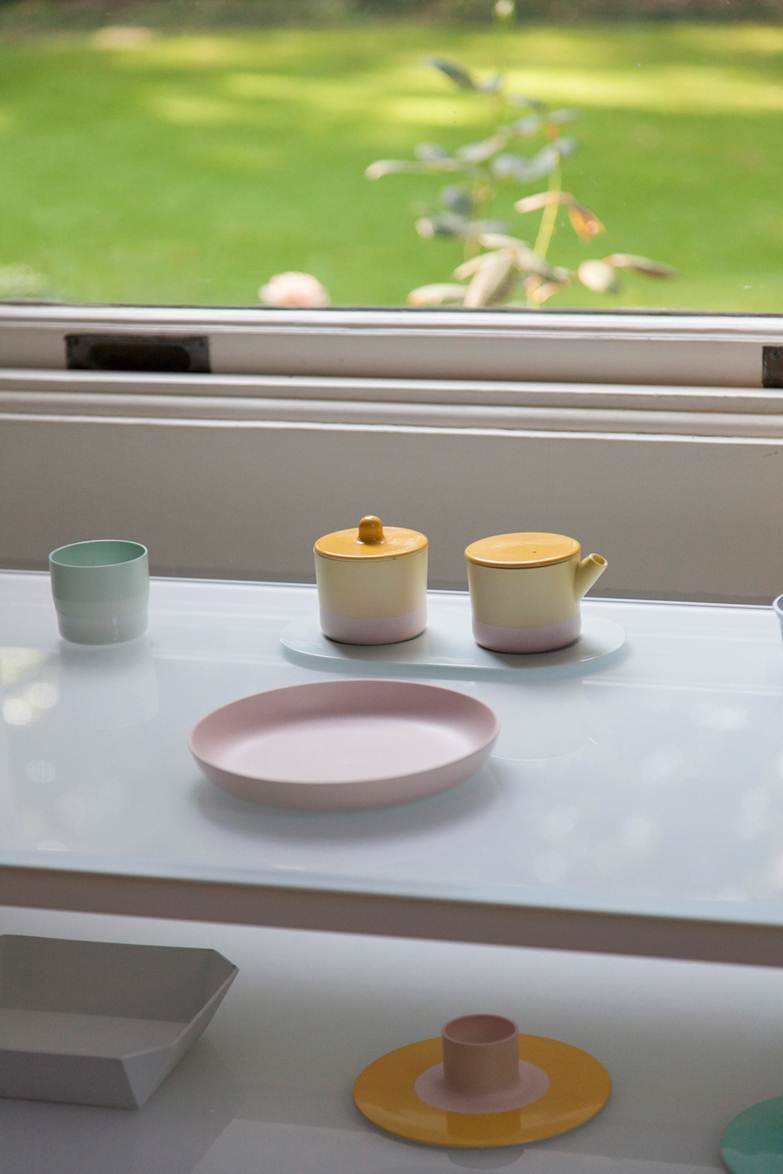 At the start of 1616/arita japan, Mr. Yanagihara thought that it was not just a question of gaining sales for trading companies and potteries, but wondered if it was possible to develop products by taking a hard and fresh look at the entire Arita region and the next 50 years of the ceramic industry. He noted, "Trends often become fashions, and we should be ahead, not just following. The past monozukuri of Arita, particularly from around the bubble economy years, was restricted by concepts limiting Arita porcelain to a certain style or type. I want to encourage the project team to look forward, and create items that are truly desirable. The role of 1616/arita japan is to let the world know that Arita has an exciting many-colored monozukuri, with fantastic technical ability, and is not simply limited to design." This brand has been positioned as a successful experience, and by expanding to the varied designer groups, trading companies, and potteries, 2016/ will be born as a new brand of the Arita region.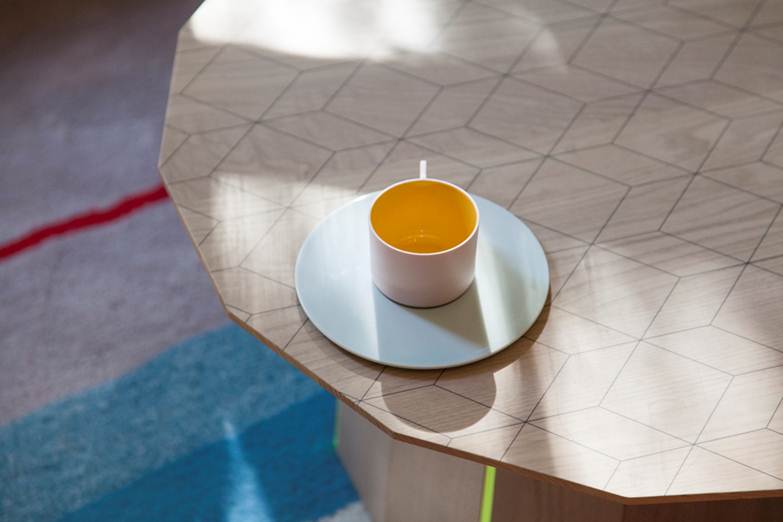 Expressing Arita's multilayer attractiveness in porcelain
Based on innovative designs showing individuality in terms of originality, technique, and design, the 2016/ lineup is divided into two series: an Edition Series, which transcends the framework of tableware and containers, and includes a variety of interior objects; and a Standard Series with an emphasis on functionality in our daily life, and mainly available at a low to middle price range.
Mr. Yanagihara describes the Edition Series as follows: "We will freely use the latest technical and design strengths to create historically valuable mono (objects) so that customers who acknowledge their worth will be pleased to welcome them into their homes; or we will produce mono as testimony to Arita porcelain's story and history." He continued: "The Standard Series is the staple mono to ensure a firm business foundation for each pottery and trading company. I want to develop the series so that they can be appreciated and purchased as Arita porcelain." He also said: "The commonly held impression of Arita abroad is one brand, one company; it is not actually known as the name of a production region. In the first place, the details of Arita porcelain have been much appreciated in the past, so 1616/arita japan has been a test run to change the appraisal standards of the future. The 2016/ project has never aimed to directly enhance the brand power of each pottery and trading company. All the participants understand the purpose is, through their unity, to increase the brand power of every aspect of Arita porcelain. First of all, we must get the message across that the Arita region is a vibrant focal point of diverse people and skills. The attractiveness of Arita is found in multiple layers, where people and skills are linked, layer upon layer. Taking this monozukuri project as an opportunity, we want to display Arita's attractiveness and its varicolored layers.
In this 2016/ project, to develop products the designs proposed by the designers are brushed up by the potteries. By making the maximum use of a pottery's skills and techniques, the challenge of new designs is taken on; this experience is nothing more or less than the addition of a new layer and a new departure for Arita's attractiveness.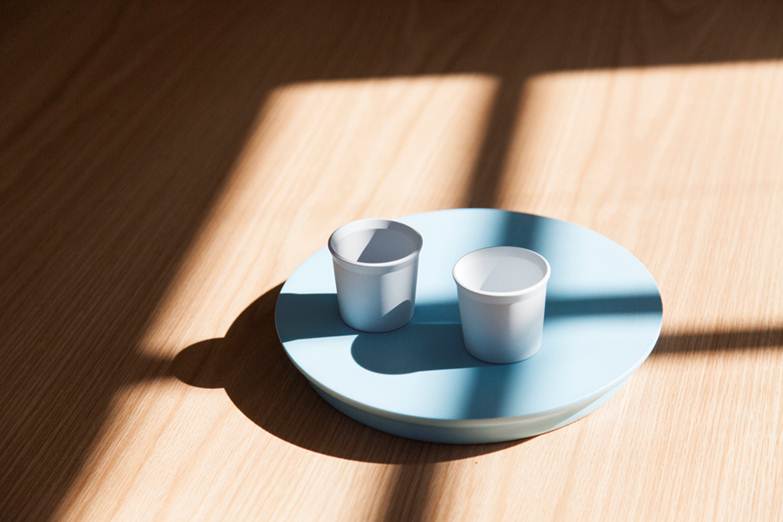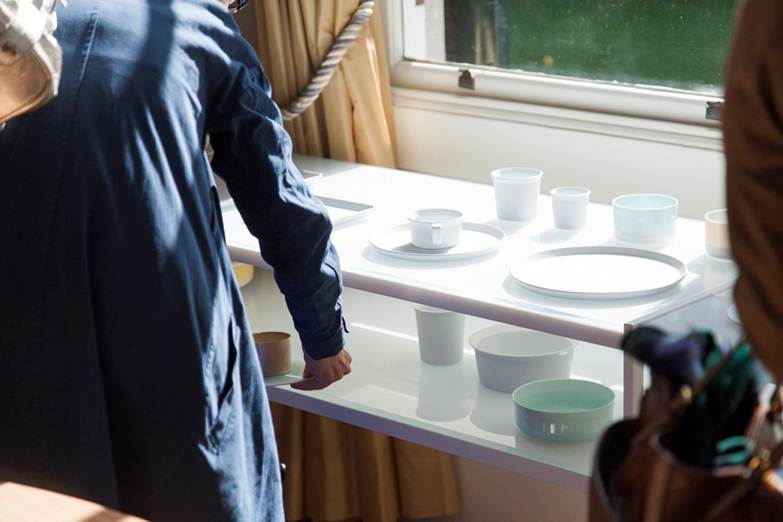 Design proposals meet hand-made possibilities
From July 2014 onward, a stream of versatile designers from such countries as the Netherland, USA, UK, France, Germany, Switzerland, and Sweden visited Arita. Each designer observed the "handwork" skills of Arita porcelain from their own unique viewpoint, and explored different creative approaches. After these visits, Gen Harada of Hosengama pottery told us his impressions (all the following quotes are by him): "Basically, the manufacturing process doesn't change, but when traditional potters see the drawings or a finished prototype presented by a modern designer, naturally being of a more conservative mindset some potters may wonder if such a piece would really sell. The key is whether despite their reservations, the potter can be totally committed to the making of such an innovative piece." When designers want to consult with potters, the potters will give their opinion based on their technical experience, but should not make artistic proposals concerning design, because: "It's more than likely the finished work would end up looking like conventional Arita porcelain." On the other hand, designers were surprised by the Arita manufacturing process always involving a degree of human touch and delicate work that could never be done by machines. "Previously as potters we had never thought of our own monozukuri as being an added value, but now by promoting the quality of the handmade parts, this is something we can be appreciated for throughout the world." It is only through this collaboration that the potteries have come to be aware of this valuable point.
Currently, 16 groups of designers have finished presenting their proposals, and the potteries, trading companies, and technical center have formed a team; through confirmation and adjustment of the design process, the team is now at the stage of examining the basic design plan.
When we look back 400 years to the birth of that first "white" porcelain, which had not been made in Japan before, we wonder after so many years of hard work, just what was in the minds of those artisans responsible for such ceramic monozukuri? Now once again, we can anticipate a similar moment when the struggle to give birth changes to joy as 2016/ undergoes its fiery baptism.