TOPICS
001
Professional Use Project – NEW ARITA 400 "educe" Project – report 1
Infinite possibilities: A collaboration between the makers and users of tableware.
All great chefs aim to create dishes to stimulate our five senses and leave us deeply satisfied and content. Artisans listen to the chefs, and endeavoring to fulfill their wishes make complementary tableware. The Professional Use Project explores new techniques for monozukuri involving the collaboration between the passion of those who use and the skills of those who produce; please read on and discover these new and exciting initiatives.
February 09, 2015
Written By Shinsuke Miyazaki
Tableware with a message
In the words of the bon vivant and connoisseur Kitaoji Rosanjin, a man well versed in calligraphy and ceramics, "Cooks who are content with ordinary tableware will only cook ordinary food." In the world of "food" at all times and places, tableware has exerted a powerful influence, not only on the taste of food, but also on all our senses. Such a concept is a self-evident truth in food culture, and the same also applies to Arita porcelain, which since the opening of its kilns has mainly produced tableware. Today, however, Arita porcelain production is continuing to decline. One of the main causes is a significant reduction in demand for tableware by such bulk purchasers as high-class Japanese-style restaurants, hotels, and caterers.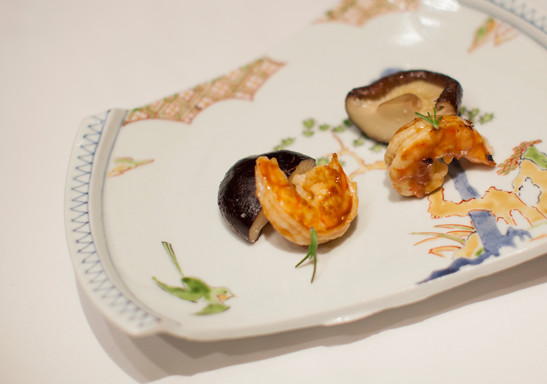 On the other hand, regardless of Japanese or Western styles of cooking, in the world of cuisine, "highly creative" cooking methods and combinations, free from conventional techniques, are now drawing attention, resulting in an ever-widening range of culinary expression. Chefs have clearly started putting their "message" into not only their dishes but also the serving dish, thus adding to the enjoyment of the diner; such a trend also suggests that tableware fulfilling the varying needs of chefs is now more "in demand."
"With an approach totally different from the past, let us produce custom-made tableware incorporating the vision of each chef." Ceramic businesses in the Arita porcelain production area gather together and hold Academy sessions where top-class chefs from Japan and abroad share their own culinary theories, methods, and use of tableware. A new project has just launched to develop products and open the market through the production center itself, while producing products incorporating the latest trends and the professional demands of "users."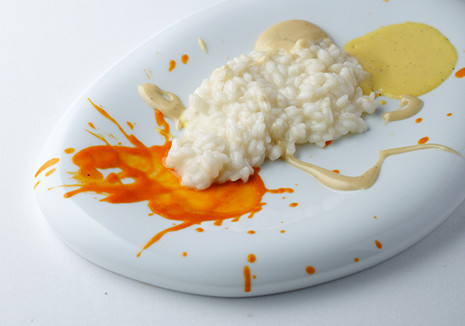 Collaboration with Arita tableware: The challenge of chefs
In January 2014, a select group of buyers and journalists were invited to an Arita Porcelain Promotion held in the one-star restaurant Jules Verne located in the Eiffel Tower, Paris; a suitably prestigious location for a special event produced by Mr. Alain Ducasse, who runs several restaurants around the world, and has the distinction of being the youngest chef in history to be awarded three stars. In fact, he has won eight, the highest number of stars ever given. Fortunately, he is also a passionate connoisseur of Japan, and the combination of his "elegant" dishes gorgeously framed by Arita porcelain was much appreciated by the guests. Such knowledgeable trendsetters were keen to spread the word exclaiming, "We want to hold an Arita porcelain exhibition in our gallery," or "Let's publish an article in our specialist magazine."
Back home, in March 2014, a collaboration event was held with Tirpse, located in Shirogane, Tokyo, which within just two months of opening had won a Michelin star. The young and energetic chef, Hiroki Yoshitake from Imari City, Saga Prefecture, made an appearance; he is the owner/chef of the Michelin one-star restaurant Sola in Paris. He said, "I want to express something that makes me feel good, free from the typical national boundaries of cuisine." The Arita tableware firing the spirit of his cooking came from several potteries in his hometown, such as Riso Porcelain, Tokko Kiln, Fukuju Porcelain, Fukusengama, and Yamahei Porcelain. In October 2014, the same tableware also made an appearance in a collaboration dinner held with Mr. Yoji Tokuyoshi, a former sous-chef at Osteria Francescana, rated as the very best among the three star restaurants in Italy. A new collaboration has been born, where Arita porcelain with its delicate and fine handwork is making a remarkable impression and helping deliver a strong message about the creative cuisine of these talented Japanese chefs making their mark on the world stage.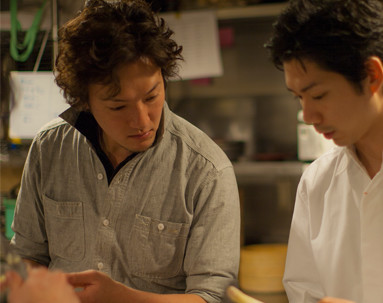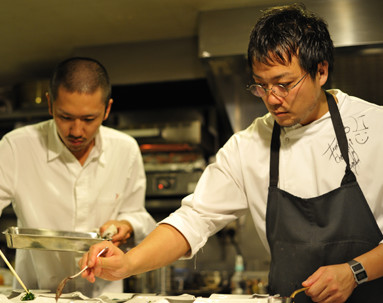 Possibilities for "custom-made" tableware and Arita porcelain
The ceramic company Kamachi Toho, a member of the ARITA 400project, produces much tableware in collaboration with cooks, including the distinguished chef, Mr. Dominique Bouchet, the former master chef of La Tour d'Argent. Kamachi Toho can be described as a forerunner of the present Arita enlightenment.
Mr. Masaru Kamachi said, "We have a superb tableware range Enban, which evolved from out of its failure to meet the strict standards of Mr. Bouchet, who at first sight said, 'This is very good, mmm, but French fingers are bigger, so make the rim much higher, allowing for easy serving. The center area is also too small and will restrict the size of dishes.' In response to his critique, the development team started measuring French people's fingers. At first, some in the company thought it a waste of time and effort, or quixotic to pursue such perfection, but now I think it was well worth the efforts." To listen to user opinions and incorporate them into product development lies at the basics of marketing, and is now common practice in any industry. In the development of professional-use tableware, however, there has not been an openness to include chefs' opinions, and moreover, within the catering industry, it was hardly known that the kind of tableware demanded by chefs can be custom-made.
Supported by high-level skills, the trend to differentiate through "custom-made" production is now accelerating throughout the region.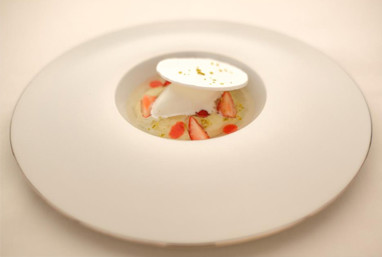 Market cultivation through monozukuri * by Top Team
Mr. Toyoharu Enokizono, the Director of Mutsukari, a Japanese restaurant in Ginza, Tokyo, offering New Edomae Tokyo Style with a concept of super culinary art, said, "The ideal, the world over, is delicious dishes made with much love, but unfortunately in this world there are awful dishes brimming with love, and tasty dishes with not a pinch of love. If Arita porcelain focuses only on hand-painted, they will not make products with added high-value. Arita still maintains values found in an era when its sales were at their highest. Such conventional business models have reached their limits." Mr. Enokizono also acts as a mentor in the professional use initiative, NEW ARITA 400 "educe" project, in which trading companies and porcelain producers together establish new business models for Arita porcelain, free from Arita's traditional practices. The aim of the project is to train Top Team personnel to lead the development of professional-use tableware in the Arita region, and establish a structure for producing a steady stream of new products.
This mentor said, "What has Arita porcelain lost? I think it's the spirit of monozukuri, that strong determination to achieve, whatever the odds. We will only raise our game by never fearing to drive ourselves into the tightest corner. My aim is to develop a team capable of meeting any chef's order, no matter how complicated."
In the NEW ARITA 400"educe"project, the plan for 2015 is to release a superb range of new professional-use Arita porcelain. Overseas, the new porcelain will be debuted in Lyon, France, at the Sirha - The World Hospitality & Food Service Event 2015, where 20,000 chefs from all over the globe gather and mingle with 200,000 professional visitors from the catering industry. In Japan, the new range will be presented at the 5th World Cuisine Academic Meeting in HAKODATE, Hokkaido, where enthusiastic chefs from home and abroad gather to share their own culinary theories and methods, and discuss future food and culinary trends. In Tokyo, the 43rd International Hotel & Restaurant Show, a very large scale exhibition in Japan, is held for such catering industry professionals as hotels and Japanese-style inns; on these prestigious "stages" of food, all drawing much media and industry attention, a sequence of new Arita products will make their appearance.
With this true collaboration of potters firing and chefs serving tableware, the possibilities for the new Arita porcelain are endlessly expanding.