Writtern by Masumi Kimoto
―Introduction ―
Nothing could better have described the fascination Kakiemon had in Europe.
Christiaan J.A. Jörg
Christiaan J.A. Jörg, a professor of Leiden University in Holland, has studied porcelain exported from Japan to Europe in the 17th century and imitations of Japanese ceramics produced in large quantities in Europe in the 18th century; he collated his research in a paper titled "The Colours of Old Japan: Japanese Export Porcelain, Kakiemon and European Imitations."※1
At that time numerous European kilns including Delft in Holland, Meissen in Germany, Chantilly, Saint-Claude, and Mennecy in France, and Chelsea, Bow, and Worcester in Great Britain imitated Arita porcelain which was known as Imari or Kakiemon. The golden age of Arita porcelain exports to Europe was the second half of the 17th century, and in the 18th century, imports flagged being overshadowed by the cheaper Chinese and European ceramic products; in the background there were a considerable number of European imitations of Japanese porcelain on the market.
However, around the start of the 18th century, despite the end of this age of mass imports, there still remained a number of discerning European collectors seeking after the highest quality Japanese ceramics to display in their glass cabinets. Taking advantage of this situation, unscrupulous dealers would erase the inscriptions from European imitations fired in the Meissen Kiln and sell them on as genuine Arita porcelain. This trade in counterfeits did not appear to last for very long, but clearly indicates the enduring popularity of Arita porcelain.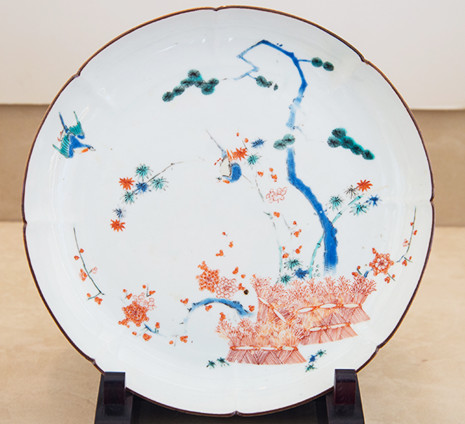 "Porcelain sickness" a malady suffered by royalty and aristocrats
In the 17th century, the Edo Shogunate imposed a policy of national isolation upon Japan, and trade with foreign countries was severely restricted; however, through China and Holland, which were permitted to trade with Japan, massive quantities of ceramics were exported to Southeast Asia and Europe. Arita porcelain pieces, hidden for many months in the dark bowels of the ocean-going ships, were no sooner unpacked into the light of day than they were snatched up by European royalty and aristocrats enchanted with their white radiance and beautiful designs.
All over Europe the cream of society poured their wealth like water into the amassing of huge collections of Oriental porcelain; so enthusiastic were the wealthy to own this exquisite porcelain that their uncontrollable desires were given the name of "porcelain sickness." August the Strong, Elector of Saxony (King of Poland) was particularly afflicted, attempting to fill every room in the Japanese Palace of the Zwinger Palace with porcelain; however, August's plan was too ambitious to complete.
Many royal personages close to the King of Germany and Holy Roman Emperor were all infected with porcelain sickness. Friedrich I, Elector of Prussia created a room known as the Porcelain Cabinet in the Charlottenburg Castle; his fellow ruler Maximilian II Emanuel, Elector of Bavaria created a porcelain display room called the Cabinet of Mirrors in the Munich Residence. In addition, Schonbrunn Palace in Vienna and Hampton Court Palace in England also housed substantial porcelain collections.
The researcher and author Miki Sakuraba considers porcelain collection by royalty and aristocracy as one of the "emblems representing authority."※2 From among such emblems, Japanese ceramics were acknowledged as being of the highest quality, and became highly desirable articles worthy of fixation.
※1 Christiaan J.A. Jörg, "THE COLOURS OF OLD JAPAN" JAPANESE EXPORT PORCELAIN, KAKIEMON AND EUROPEAN IMITATION, Dragons, Tigers and Bamboo: Japanese Porcelain and Its Impact in Europe: the Macdonald Collection,2009, Douglas & Mcintyre Ltd.
※2 Miki Sakuraba "Western Court Art and Japanese Export Porcelain: Culture Development through East-West Trade" 2014, Geika Shoin Co., Ltd.